Printed Table Tents
Welcome to my Table Tents section.
Here you can make the necessary choices to getting your
Table Tents Designed and Printed.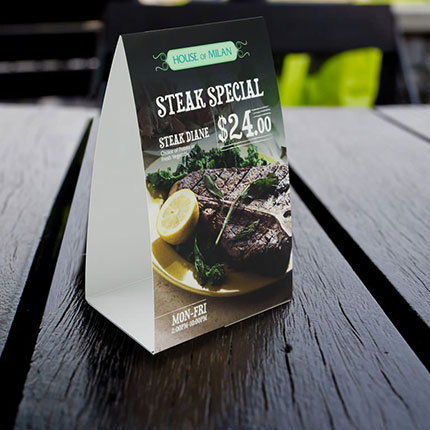 Let your Customers Know! Do you have Drink Specials,
Maybe a great Meal Deal or just to simply get there taste buds going.
Table Tents will definitely do the job.  

Milk Shakes or Sweets. Those Table Tents are my weakness.
They work on me and they will do the same for your customers.

Do you have your own Art or Images?
That is great! I will get your printed table tents ordered and
have them at your door in a flash.

No Art? That's OK, I'm here to help. After filling out the form with the options you desire, I will be in contact soon after and together, we can begin getting the exact look and feel of your choice.  So let me know your thoughts by filling out the form below and let's get started. 

---
Simply scroll down to the Entry Form for a quick selection of
options and a quote will be  returned ASAP to your email box.

If you come across an option you don't fully understand, See my Print Terminology page for explanations or be sure to let me know and I will go over these options with you. Nothing will be finalized until you here from me that all of your desired choices are met and I have an approval from you to move forward to production.