PRINTED and MOUNTED CANVAS
Welcome to my "Mounted Canvas" section.
Here you can make the necessary choices to getting  your
Canvas Designed and Printed.

Personalize your Printed Canvas with photo's of Family,
Weddings, Reunions or any thing special to you.
Even select some of your greatest scenic photo's and create a Split Canvas for your room decor.
Printed and Mounted Canvas is where you can let your imagination really shine.

Mounted Canvas Pricing
12" x 18" - $34.99            12" x 24" - $42.99
 16" x 20" - $49.99            16" x 24" - $54.99
 18" x 18" - $49.99            18" x 24" - $59.99
  20" x 24" - $65.99            24" x 24" - $69.99
24" x 36" - $99.99
From 12" to 36" Allow me to print your favorite scenic photo, animal or best friend on Canvas. A great gift idea that is rising in popularity. My Printed Canvas are mounted to a solid wooden frame and come to you ready to hang on the wall.
Split Canvas are a bit more tricky to print but once produced, they make for great wall decorations in any room. 
So, get out those old photos and memory's or find an image of your favorite sports star and let's print and mount your canvas.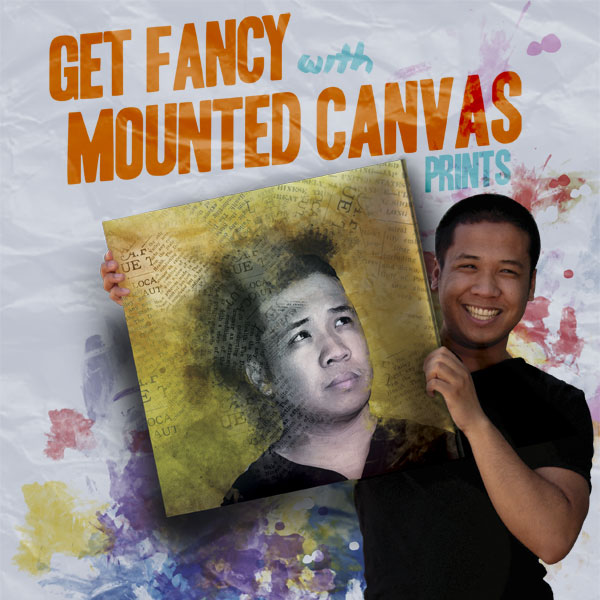 I would enjoy having the opportunity to work with you and create a printed mounted canvas that fits your desire, but if you are just looking to make a quick self-made canvas, where you upload the file of your choice, make the necessary changes and your printed mounted canvas arrives in just a couple of days, then I recommend Canvas Pop where you can create your own on the fly.

Got pictures? Turn them into canvas art with just a few clicks.
Give it a try!
Or maybe you just enjoy the art of printed canvas and would like to see what's available that will look outstanding on your walls. If that's the case, I recommend you take a look at Inktuitive. They are true artist that have categorized their printed canvas with many categories to choose from.
It's well worth a look!

Modern Canvas Wall Art From Inktuitive
So if you would just like to work with someone to be sure you get the exact printed canvas you are looking for, I would enjoy the opportunity to make it happen.

Do you have your own Art or Images? That is great! I will get your printed and mounted canvas's ordered and have them at your door in a flash. 

No Art? That's OK, I'm here to help. After filling out the form with the options you desire, I will be in contact soon after and together, we can begin getting the exact look and feel of your choice.  So let me know your thoughts by filling out the form below and let's get started. 

---
Simply scroll down to the Entry Form for a quick selection of options and a quote will be  returned ASAP to your email box.

If you come across an option you don't fully understand, See my Print Terminology page for explanations or be sure to let me know and I will go over these options with you. Nothing will be finalized until you here from me that all of your desired choices are met and I have an approval from you to move forward to production.