Printed Refrigerator Magnets
Welcome to my Refrigerator Magnet section.
Here you can make the necessary choices to getting your
Refrigerator Magnets Designed and Printed.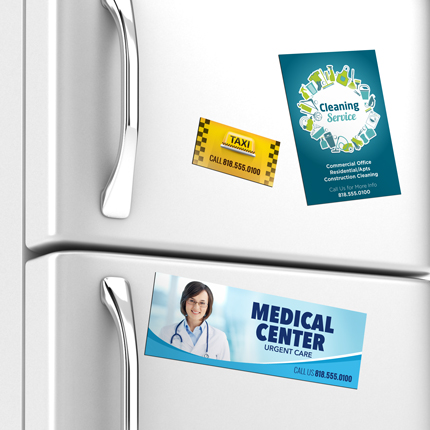 Make your brand, product or service pop by advertising with
Printed Refrigerator Magnets! 
If you are a service oriented company, leave your info behind so customers can contact you when necessary. Printed on premium quality 17pt magnet-backed stock Uncoated, Magnets come in sizes ranging from Business Card size, to Announcement Card size. Announcement Cards are flat cards that are perfect for invitations and save the date cards. These magnets are recommended for indoor use only! 
---
Simply scroll down to the Entry Form for a quick selection of options and a quote will be  returned ASAP to your email box.

If you come across an option you don't fully understand, See my Print Terminology page for explanations or be sure to let me know and I will go over these options with you. Nothing will be finalized until you here from me that all of your desired choices are met and I have an approval from you to move forward to production.